Welcome to the Paranoia Agent Wiki
This is a wiki to document all that the Paranoia Agent- the psychological thriller created by revered anime director Satoshi Kon. This wiki was created on September 17, 2008, and is currently host to 140 articles. Please help us out by adding or contributing to one.

Paranoia spreads like a disease, as a boy on golden skates, dubbed "Lil' Slugger", gains fame through being a hit-and-run assailant. The story all starts from Tsukiko Sagi, who is the first victim of the assailant. The attacks then continue, and two detectives- Keiichi Ikari and Mitsuhiro Maniwa investigate the cases to find that there are things much deeper going on throughout the city.

Stub pages are a great place to start editing!
Featured Article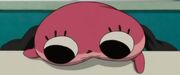 Maromi
is a mascot created by
Tsukiko Sagi
and her most famous character. Maromi is a small pink dog, which has been made into many forms of merchandise, including plushies, pillows, balloons, and even a television show.
Characters