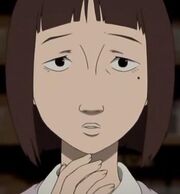 Kamohara is named by the gossipers in episode 9. She's new to town and has not caught up on the rumours.
The gossips mention that her husband is a screen writer.
Kamohara's husband is waiting for her at home in somewhat of a distraught state. Her failure to impress the gossips with her stories twists her priorities a bit.